SORCS 2015 Series Schedule

Click here!
SORCS Discussion Forum
Click here!
Race Timer Live
Unofficial Race Results
Click here for details


Husqvarna Payout for SORCS


Race Results


SORCS Series Points


Rules and General Info


Fees


Classes

Visitor#
769232


Hello SORCS racers! We are getting ready for our inaugural State Line Gran Prix this Sunday October 11. All landowner and concessions proceeds as well as a portion of the race proceeds will be donated to the Help Find Joe Keller Fund. So please come join us for a good time and a good cause!

The course will be 2.5 to 3 miles long and we want to give you guys some long 25-30 minute motos. Lap times will be in the 7-8 minute range, so that will allow us to start more riders in each moto. Each moto will have 2 or 3 gates spaced 60 seconds apart to spread everyone out.

We have set a running order in advance so everyone can plan accordingly. We have set the order up to accomodate those who want to ride more than 1 class.

State Line Gran Prix Running Order. (2 moto format)

Moto 1. (gate 1 )Pro/AA , and 16-29 A
Moto 1. (gate 2 )30+A and 40+ A
Moto 1. (gate 3) Open Amateur

Moto 2. (gate 1 ) 50+ and All Vintage classes
Moto 2. (gate 2 )Open Mini
Moto 2. (gate 3)Women's

Moto 3 (gate 1) 4 s t roke
Moto 3.(gate 2) 2 stroke

Moto 4. (gate 1) Super Mini and Jr Super Mini
Moto 4 (gate 2) 85cc 12-15 and 85cc 7-11
Moto 4 (gate 3) 65cc 10-11 and 65cc 7-9

Moto 5 (gate 1) 16-29 C
Moto 5 (gate 2) 30+ C and 40 + C
Moto 5 (gate 3) Beginner

Moto 6 (gate 1) 50cc

Moto 7 (gate 1) 16-29 B
Moto 7 (gate 2) 30 + B and 40+B
Moto 7 (gate 3) Open Schoolboy

Moto 8 (gate 1) All Quads

We look forward to seeing everyone this weekend!!


State Line Gran Prix - Directions: From Atlanta take I 75 North to exit #341. Turn right onto Ga 201 North, go 4.5 miles. Turn right onto Ga 2, go 1.7 miles. Turn left onto Ga 71. Go 6.5 miles, entering Tennesee continue on Tn 60 North. Go .7 miles. Turn right onto Mitchell Rd. SE. Go 2 miles. Turn left onto Johnson Rd SE. Go 1/4 mile to entrance on the right.

Nearest address is...1262 Johnson Rd SE. Cleveland, Tn. 37323.
---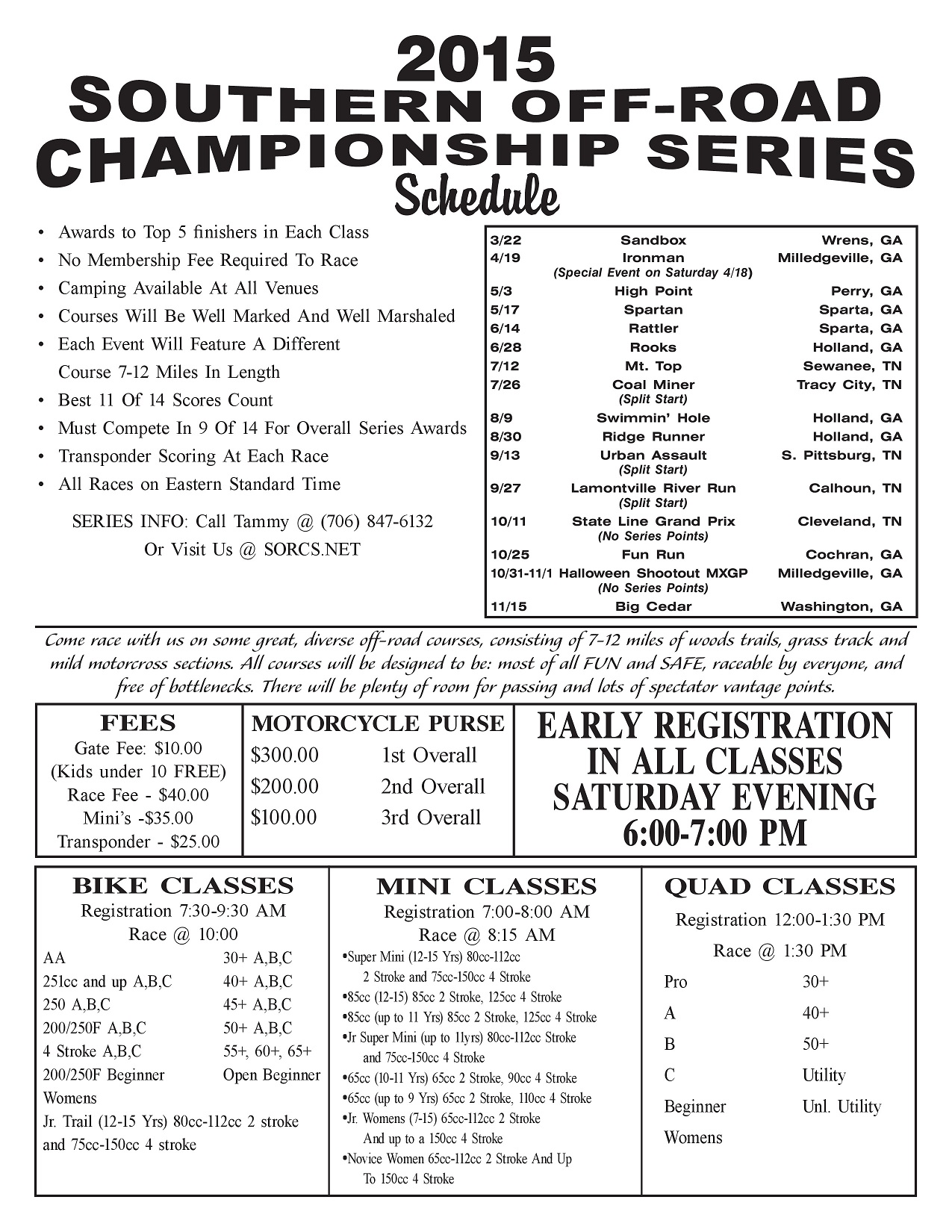 ---
ABSOLUTELY NO PIT RIDING ALLOWED AT SORCS EVENTS Violators will not be allowed to race and will be asked to leave the property. Keep race bikes and quads parked until 10 minutes before scheduled start and then ride them at idle speed in first gear to the starting line. After the race, please ride your bike or quad back to your pit area at idle speed in first gear. Failure to do so will result in a disqualification from the days event. We must enforce the No Pit Riding rule in order to keep going to the nice venues we have. We have already lost one venue and may lose another because of senseless pit riding. Golf carts, mules etc.. will be allowed at speeds of 5 MPH or less with a Responsible Adult Driver.

Thank you all for your cooperation in this matter.
---
SORCS Sponsors