2017 Summer
Series Schedule

Click here!
SORCS Discussion Forum
Click here!
Race Timer Live
Unofficial Race Results
Click here for details
2017 FLY Racing Contingency Info
Click here for details


Husqvarna Contingency Program


2017 SORCS Winter Race Results


2017 Winter Series Points


2017 SORCS Race Results


2017 Series Points


Rules and General Info


Fees


Classes

Visitor#
1034412
Round 2 - 2017 SORCS Series
April 2nd 2017
Fun Run : Cochran, Ga.


Directions: From Macon, take I-16 east to exit # 18. Go right .6 miles to entrance on the left.

Physical address is :
Whiteweay Plantation
7005 Bullard Rd
Dry Branch, Ga. 31020

Hello SORCS racers,
Thanks for a great round 1 at Aonia last weekend. We are looking forward to round 2 at Cochran being just as great! We will have some new, different sections and the weather man is calling for some much needed rain Thursday and Friday. Should be a great race weekend. After round 1 We have had some complaints about some fast mini riders that have moved up to C classes this year. We have always allowed mini riders from the previous year to move up to a C class. Since the new season has already started We are going to honor that rule this year. These young racers have been planning this year based on our previous rule and we are not going to change it now. Next year We will be adding a new class Schoolboy 14-17yrs. (125cc and up). This will help these fast young people have a place to compete without moving straight to an A or B class.

Look forward to seeing everyone at Fun Run this weekend!


---
Race Registration and Race Start Times are based on
Eastern Standard Time.


Click here for SORCS Summer Series Flyer
---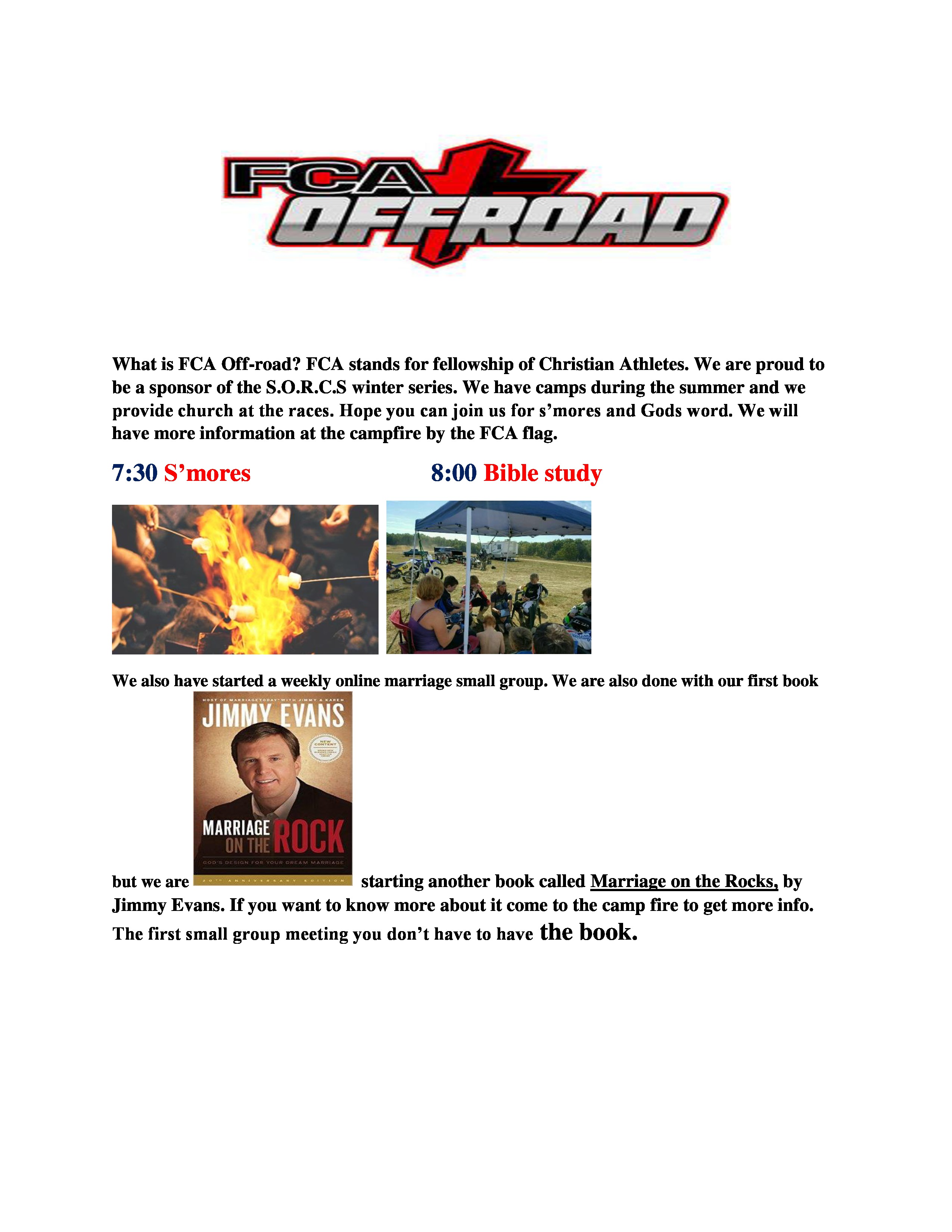 ---
ABSOLUTELY NO PIT RIDING ALLOWED AT SORCS EVENTS Violators will not be allowed to race and will be asked to leave the property. Keep race bikes and quads parked until 10 minutes before scheduled start and then ride them at idle speed in first gear to the starting line. After the race, please ride your bike or quad back to your pit area at idle speed in first gear. Failure to do so will result in a disqualification from the days event. We must enforce the No Pit Riding rule in order to keep going to the nice venues we have. We have already lost one venue and may lose another because of senseless pit riding. Golf carts, mules etc.. will be allowed at speeds of 5 MPH or less with a Responsible Adult Driver.

Thank you all for your cooperation in this matter.
---
SORCS Sponsors